About us
Oldtennisballs.com, Oudetennisballen.com
We specialize in old tennis and padel balls and try to be the link between the tennis sport and the search for second-hand tennis balls. In addition, we try to make tennis balls circular and to create more sustainability in the tennis and padel world. We are active in the Netherlands & Belgium and are based in 's-Hertogenbosch.
Here we work together with many tennis clubs and schools. We think that too many tennis balls are simply thrown away while someone else is very happy with it. We literally find many tennis balls in the bins at tennis parks and that is a shame and not environmentally friendly. That is why we are committed to extending the life of a tennis ball and making people happy outside of tennis.. 
Our motto: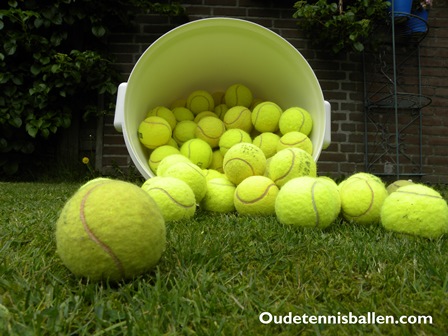 Give old tennis balls a second life
All our tennis balls have given their first life for tennis, now they are going for a second life. Will you help us?
Our visitors
"

How great that I found you, now I no longer have to search the internet for old balls for my 3 dogs.
Annemarie, Breda
"

We still had many old balls in our park. We are happy that you can use them well, because throwing away was such a shame! Success with it.
Hans, Utrecht


OUR WAREHOUSE 
Since 2018, our warehouse has been taken care of by the students of the Stedelijk VSO in Rosmalen at the logistics and warehouse department. The Stedelijk VSO is part of Foundation HUB Noord-Brabant and offers special secondary education for students with behavioral and learning problems that fall out of regular education.



Learning goals:

For the students it is a nice way to get acquainted with the subject of logistics and to practice with various (employee) skills that come with it.

Under the guidance and supervision of two great teachers, all our incoming and outgoing goods are checked and managed by the students of the school. All tennis balls from the Netherlands and Belgium are sent to this central point. The students count all tennis balls and select the tennis balls by type and remove the rejected tennis balls from the rotation. The tennis balls are then packed and / or stored in the warehouse.